Danny Wuerffel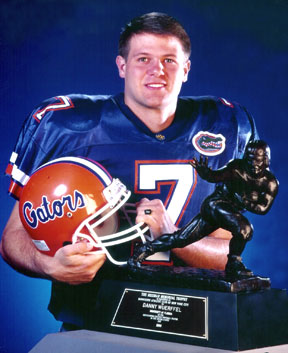 Former college and professional American football quarterback who won the 1996 Heisman Trophy and the 1996 national football championship while playing college football for the University of Florida. Wuerffel was a prolific passer in Coach Steve Spurrier's offense. He lead the nation in touchdown passes in 1995 and 1996 and set numerous school and conference records. He lead the Gators to four SEC Championships and the University's first National Football Title. Wuerffel was inducted into the College Football Hall of Fame in 2013.
Currently Danny Wuerffel is Executive Director of Desire Street Ministries – the intersection of lives, leaders and neighborhoods. Desire Street's partnership approach means we walk together with leaders, coaching and caring for them as they navigate the waters of ministry in their own communities. Each has different needs, different goals and dreams, different histories where God was at work long before we showed up. Desire Street Ministries was founded in 1990 when Mo and Ellen Leverett moved into the neighborhood surrounding the Desire Housing Project in the Upper Ninth Ward of New Orleans, often rated one of the worst in the nation for crime, drugs and poverty.
The mission of Desire Street Ministries is to love our neighbor by revitalizing under-resourced neighborhoods through spiritual and community development.